Blog Archives
Let's give a warm welcome to author Peter Antony Kelley, author of Paraglide. He is here today to discuss the importance of locations in novels.
Peter Anthony Kelley is the author of the young-adult novel, Paraglide. He lives in Minneapolis with his wife, two daughters and a cranky nineteen-year old cat named Brownie. When he's not writing he loves travel, biking, watching soccer and jumping on Venetian gondolas.
εїз_Ƹ̴Ӂ̴Ʒ_εїз__εїз_Ƹ̴Ӂ̴Ʒ_εїз_εїз_Ƹ̴Ӂ̴Ʒ_εїз__εїз_Ƹ̴Ӂ̴Ʒ_εїз_εїз_Ƹ̴Ӂ̴Ʒ_εїз__εїз_Ƹ̴Ӂ̴Ʒ
Location, Location, Location
In real estate location is king. In fiction, not necessarily so much.  At best, the setting of a story snags the role of a prince behind King Plot and Queen Character Development, occasionally slipping to lowly duke or even vanishing entirely.  Think of stories that could happen anywhere, a bland small town, an anonymous big city. Yet a stellar sense of place, an evocative description of the landscape, even a singular building can send a novel soaring. How much does Hogwarts add to the work of Harry Potter.  What about Dickensian London? The very term evokes such vivid imagery, it's impossible to imagine Oliver Twist or The Christmas Carol with it.
What's your favorite literary location? Do you prefer a fictional universe, a world that bears little or no resemblance to the one we inhabit, a place to really get away from it all? Perhaps Middle Earth from Lord of the Rings or the sprawling creations of George R.R. Martin. Do you enjoy known places that are turned on their ear: New York City as a giant prison, super volcanoes erupting in Yellowstone, gods and goddesses living in country bungalows or city tenements?
Some writers anchor their stories in real places. In my own novel, Paraglide, the main characters start in modern-day London, travel to Italy and end up trekking through the Swiss Alps. Their adventures are shaped and at times, guided by actual buildings and topographical features.  Is it easier to imagine a place that actually exists?
Occasionally place does rise to the top, becoming a character in its own right.  In Erin Morgenstern's recent novel, The Night Circus, the title character overshadows the rest of the cast. The Amazon jungle nearly takes over Ann Patchet's State of Wonder. Frank Herbert's Dune is so vivid, it inspired a host of sequels and spinoffs, movies and miniseries. Do these places take away from the plot or add to it?
What do you think? What fictional world would you like to explore or live in? Is it real or imagined, somewhere exotic and exciting or comfortable like a favorite sweater? What do you tell that real estate agent to look for?
εїз_Ƹ̴Ӂ̴Ʒ_εїз__εїз_Ƹ̴Ӂ̴Ʒ_εїз_εїз_Ƹ̴Ӂ̴Ʒ_εїз__εїз_Ƹ̴Ӂ̴Ʒ_εїз_εїз_Ƹ̴Ӂ̴Ʒ_εїз__εїз_Ƹ̴Ӂ̴Ʒ
Thank you Peter for stopping by and providing a great guest post. Here is Paraglide.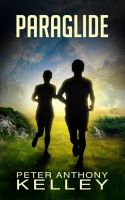 For siblings Jim and Erica Winters, a summer vacation to London promises adventure and a bit of freedom from their overprotective mother. But once they arrive, they end up with more excitement than they bargained for. Their mother is kidnapped and her captors demand the one thing they can't produce – their long-absent father. Unable to trust the authorities, Jim and Erica set off in pursuit of their father, racing across Europe and fending off mysterious assailants. As the trail of clues dries up, help arrives in the form of a raven-haired beauty. Is she the answer to their prayers, a romantic distraction, or something more sinister? With the kidnapper's deadline looming, the truth about their father's shadowy past is revealed. In a last ditch effort to save their mother, Jim and Erica must climb high into the Swiss Alps where a perilous choice confronts them. Can they trust their father who has repeatedly betrayed them? Their family's survival may depend on it.
Peter Anthony Kelley can be found at his blog and Facebook.

Paraglide can be purchased at Smashwords, B&N, Amazon